Does Texas Judge Suzanne Stovall Deserve Re-election?
Written by: Rob
Print This Article &nbsp&nbsp
Use of Our Content (Reposting and Quoting)
(Note: When this article was first published, the author was not aware the deadline for Judge Suzanne Stovall to file for re-election had just expired. Please see our article Montgomery County 221st Judicial Election Candidates for information on the four candidates who are running to fill the opening. We believe the article is still relevant because it shows the types of problems Stovall caused over the years for citizens whose cases were heard by her.)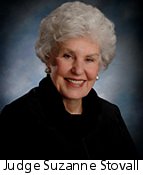 In response to my recent article Jason Fontaine Speaks Up About Child Custody Murders on the Fontaine murder/suicide case in California, a commenter identifying himself as "GOOD DAD" posted about his concerns regarding judicial misconduct involving Judge Suzanne Stovall of Montgomery County, Texas. In his divorce and child custody case, he believes that Stovall has acted in a biased manner which has seriously hurt his children and himself. This judge has a term that ends December 31, 2010, according to the Texas State Directory. So there may soon be an opportunity to eliminate her if she's doing a bad job as GOOD DAD claims.

Fairly evaluating whether a judge is good or bad takes some data. Arrogant judges can and do make all parties to a case upset by delaying actions, making arbitrary rulings, and pretending that in their courtroom they are the law. Odds are that pretty much any judge is going to botch a case here or there, leaving at least one litigant in the case upset. So it seems you've got to go by overall track record, not just comments on a particular case. But how do you determine a track record when you likely know almost nobody who has experience with a judge? This is where the Internet can be truly handy. Web sites such as RateTheCourts.com and CourthouseForum.com help people share opinions about the conduct of judges with other people and the information can remain accessible long after they share it.
Special Offer through January 31, 2023:
Every Life Extension Supplement Is on Sale!: Use Code SUPERAFF
Checking Up on Judge Suzanne Stovall
With this in mind, I did a little checking and found that the GOOD DAD's opinions of Judge Stovall are not unique. This judge may indeed have some problematic behaviors. There are multiple negative reviews on Judge Stovall at the website CourthouseForum.com, apparently from different parties with similar concerns. This web site could be an excellent tool for fighting judicial corruption by helping litigants know about the problems others have experienced with judges, however more people need to be using it to make it effective.
Survey results for Judge Suzanne Stovall are also remarkably negative. She rates an F from 4 survey participants. But it's not likely that this could be considered a representative sample at all. It's self-selected and the number of people involved is quite low. Surveys like this would be more useful if more people would review the judges. Although RateTheCourts.com, like its sister site CourthouseForum.com, has the names and locations of seemingly nearly all judges in the United States, sadly many judges have no reviews at all. This could mean they are not particularly bad enough to motivate parties to complain about them, or it may have some other explanation.
Stovall Doesn't Listen To Voters Regarding Traffic Camera Petition Vote
Other feedback on Judge Stovall is that she doesn't listen to the public and sides with the government and private companies over citizens. She threw out a publicly approved ordinance banning the use of traffic cameras.
The short version of this story is that the City Council of College Station, Texas, voted to approve ordinance 3017 to install red light cameras in a contract with American Traffic Systems. The public got wind of this. Citizen-turned-activist Jim Ash and other like-minded citizens worked to put together a petition and get signatures calling for a vote to revoke the law that approved installation of the red light cameras. This petition was presented to the the government on August 17, 2009, as shown in a video and minutes for the meeting.
The petition was accepted and the election was scheduled for November 3, 2009.
The citizens' position is that red light cameras increase expenses and traffic accidents and therefore are bad policy:
(from Missing: Ordinance to ban red light cameras in College Station, TX)

City officials often state, "Red Light Cameras have reduced accidents by 50%". The opposing side's website states, "The bottom line is red-light violations and crashes due to red-light running have decreased by nearly 50 percent."

According to a KBTX news story linked below, "Comparing the 2007 to 2008 numbers does not show a 54% decrease, but more than a 200% increase." That number is actually higher at 233% The city's money machine is causing accidents and potential physical harm to the citizens of College Station.

"There are three kinds of lies: lies, damned lies, and statistics." -Mark Twain
Then the city council and American Traffic Systems (ATS) organized opposition via a Political Action Committee called "Keep College Station Safe" that was allegedly funded primarily by ATS.
The election was held and the voters approved the repeal of the traffic camera ordinance 3017.
The city council and ATS didn't like it, so they organized a law suit to overturn the election.
On December 3, 2009, Judge Stovall issued a written judgment disqualifying the public vote because the public didn't follow the law. She claims the publicly proposed ordinance should have been called a "referendum petition" which the public only had 20 days to submit it in order to call for a vote to repeal an ordinance calling for the use of traffic cameras that was passed by the City Council of College Station, Texas.
(from Texas: Judge Ignores November Vote On Anti-Camera Initiative)

A Brazos County, Texas District Court visiting judge on Thursday overturned the results of the anti-red light camera ballot measure in the city of College Station. Judge Suzanne Stovall ruled in favor of American Traffic Solutions (ATS) which had used a front group to challenge the results of the November 3 election in which a majority of voters chose the option listed on the ballot as, "For Ordinance bans cameras." Despite the clear wording, Stovall interpreted the measure as something different.

"The court is of the opinion that the effect of the proposed ordinance would operate to repeal a previously enacted and enforced city ordinance, and thus should have been classified as a referendum petition," Stovall wrote. "Inasmuch as Section 84 of the College Station City Charter imposed an obligation upon the citizens to submit a referendum petition within twenty days of enactment of City Ordinance 3017, the citizens of the city of College Station submitted the petition outside of the statutorily required time frame."

City officials were technically defendants in the suit, but they had no interest in winning. The city attorney helped arrange this outcome by producing an "agreed statement of facts" with the ATS-funded law firm that presented the situation in such a way that Stovall saw little argument against overruling a public vote.
In this decision, Stovall seems to honor the letter of the law but not its spirit. She sided with the city government and contractor American Traffic Solutions by using a technicality in the law involving the classification of a petition and the time in which it must be filed after the City Council passes an ordinance. Getting the public organized enough to file a petition with sufficient signatures in only 20 days is problematic at best. Stovall's decision basically means that the City Council can do whatever it wants so long as citizens aren't ready to pounce on them on a moments notice to call a referendum election. It's contrary to public interests to provide accountability of the government to the people.
Alarmingly, Stovall can't even be judged by the citizens of College Station. She is a judge in Montgomery County, not Brazos County, so if she decides to run for re-election the people whose will she just subverted won't even have a vote. Perhaps they will need to speak up against Stovall in other ways to ensure she isn't re-elected.
The number of people who were interested in this overturned election was not small judging by the 2737 members of the Facebook group for opposing red light cameras in College Station. They also put up a website called CivilViolation.com
Ethics Violation by Judge Suzanne Stovall
While CourthouseForum.com and RateTheCourts.com comments and surveys can be highly subjective, there are other signs of problems with Judge Stovall beyond her subversion of public will. Many government web sites also contain information about disciplinary actions against judges and other court officials that are never reported in the news. For instance, I found an ethics violation record for her in 2005 regarding the late filing of a financial disclosure form:
(from TEXAS ETHICS COMMISSION MEETING MINUTES
July 15, 2005, 9:03 a.m.)

…

Agenda Item 8: Briefing, discussion, and possible action to waive or reduce certain penalties assessed for late filing of campaign finance reports, lobby reports, or personal financial statements.

…

32. Suzanne Stovall, District Judge (00037515)

Report: personal financial statement due May 2, 2005
Penalty: $500

…
Report Your Judge, Check Before You Vote For A Judge
If you've got experience with a judge, fill out the surveys and comments at the web sites RateTheCourts.com and CourthouseForum.com. Your experiences can help others determine how to vote. An uninformed electorate is often incapable of eliminating problematic politicians which is exactly what these judges appear to be.
The next time you're voting for a judge in elections in your area, do some investigation before casting your vote. Unless the public votes out of office judges like Texas Judge Suzanne Stovall and California Judge David Yaffe, the public should be expecting the corrupt courts of this nation to continue to subvert public intent and to harm public interests for their own benefits.
[adrotate group="10″]
Further Reading
Montgomery County 221st Judicial Election Candidates
Texas: Judge Ignores November Vote On Anti-Camera Initiative
Ethics Complaint Filed Against CS City Manager
Corrupt Judge David Yaffe Jails Political Prisoner Richard Fine
Eileen Lasher on San Diego CPS/Family Law Court Misconduct
Stephen Doyne and San Diego Family Law Courts Under Fire
California Legislature Orders Investigation of Family Law Courts
Holding Family Law Judges Accountable
[adrotate group="10″]
Child Abuse, Child Custody, Children, Civil Rights, Courts, Crime, Divorce, Family, Government Abuse, Legal, Politics